IC Programming Services,
Chip Copying Service

Services provided:

IC Programming Service.
EPROM Duplication.
Flash Programming.
IC Device Programming.


We provide
professional and reliable
IC chip duplication services. We have excellent machines and can duplicate or copy EPROMs, Flash Memories, PALs, PROMs and complex chips.
Our machines have
reliably duplicated or copied millions upon millions of IC chips for thousands
of electronics manufacturers.
To duplicate IC chips, you can provide us with either a
data file
or a
master chip
.
Our IC programming service can handle all kinds of IC chips: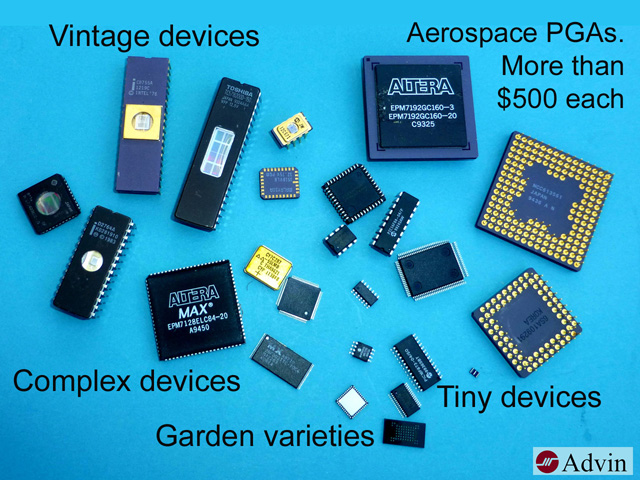 We follow these:


We are the best choice for you, if you need:

(A) Chips programmed on quality machines with accurate signals.
(B) Each job supervised and monitored by an engineer.
(C) Safe and reliable handling of your master IC chip.


When you contact us, please let us know:
(A) The IC chip's
part number
,
e.g.: Microchip PIC18F2410, Spansion 29GL128, AMD 27C010, etc.
(B) The IC chip's
package type
(form factor),
e.g.: 32-pin DIP, 44-pin TQFP, 8-pin 200 mil SOIC, etc.
(C) Whether you will be
supplying the blank chips or not
. In most cases, our customers supply the chips. For low quantities, if you do not want to bother getting the chips, we can get them for you at our cost plus a small markup. If you need small quantities of very old, hard to find chips, we may have some available, since we have been in this business for almost 30 years.
(If you have
only one master
, and if losing it would be catastrophic to your business, you should not send it in, since we cannot be liable if anything happens to it.)
If you want your job handled


professionally and
reliably,

please feel free to contact us.
sales@advin.com
1-408-243-7000

Sorry, we cannot serve you if:

(A) The master chip has been secured or read-protected. (FYI: Pure memories such as EPROMs, EEPROMs, Parallel PROMs, Serial PROMs cannot be secured. But PALs, logic devices and micros can be secured.)

(B) You need to copy automotive electronic module chips such as those used in odometers or engine control.
(FYI: For those purposes, do a Google search for "car programmers").